African Storybook in Debre Birhan, Ethiopia: Spreading wider
Mezemir Girma
African Storybook has been working with Mezemir Girma since 2015. Mezemir's commitment to literacy, knowledge sharing and literature is evident in how he personally rented a room in Debre Birhan town to set up a small community library and to support its reading, storytelling and cultural activities for the children and youth of Debre Birhan community.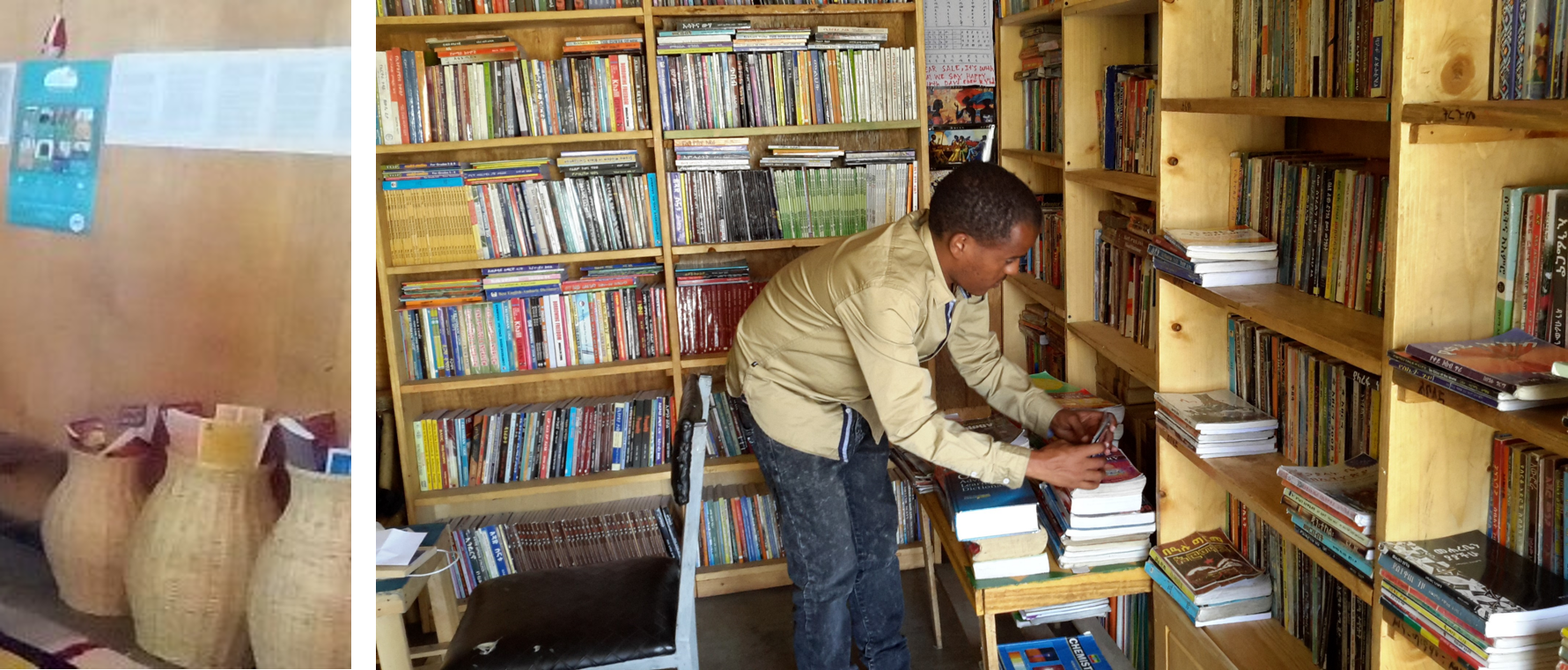 Using ASb books at the Ras Abebe Aregay Library
At Ras Abebe Aregay Library (RAL) I support the two librarians to run weekly story reading sessions using a projector, mobile devices or a laptop on Sundays from 3:00 to 5:00 pm. During these sessions, the library is closed for adult readers who are advised to read outside. Children have been taught how to use the laptop and projector themselves to project and read storybooks. The average number of children attending the reading sessions at RAL is 18. You may also see the same child many times. At each two-hour session we read five or more storybooks. Children are also taught the discipline of not disturbing the library and this helps us read as many storybooks as possible.
In the period between January and May, 2018, 367 African Storybook books were used with children and adults. All the approved storybooks in Amharic, Afan Oromo and Tigrinya (162 in number) as well as their English versions were read. In addition, there were 40 folktales in English in PDF format that were shared with us on a flash drive. They too have been very helpful. In addition to these, we have a collection of 205 stories in English at RAL.
We challenge the children to read 42 story titles each. They read the books silently, but they are also free to read aloud during the Sunday's session because this time at the library is set for them only. A recording template has been developed and distributed. The children record the books they read at the back of their Amharic or English exercise books and this has helped teachers and librarians monitor and advise them.
24 children who regularly come to the RAL reading sessions each submitted a list of 42 storybooks they read between January and April. Even 7th and 8th graders submitted a list. The slow learners at higher grades learned that they can improve their reading if they read as many ASb storybooks as possible. Once they were done with reading the 42, we advised them to reduce the number of storybooks they read and go to supplementary books for other subjects. Reading storybooks in English is also suggested. We train them how to read English storybooks. This is done to make them productive in their lessons as well.
To reward them for reading 42 books, the library gave a book to each child who submitted a list of story titles. A partner of the library, Janet Lee, brought educational playing cards for each one of them. The library bought food and drinks for the children to attract them to the sessions. I also took them on visits to interesting sites.
To help the children apply the lessons from the books to real life, library volunteers and staff encourage the following activities.
Re-telling the story to their siblings, friends, and family members and above all, to fellow students of their schools during morning flag hoisting sessions. A significant case in point is Melikt Academy which has story narrating, drama and other language related sessions every Friday morning.
Dramatizing: A few storybooks have been dramatized at the library and the schools. The children act as directors, producers, introducers, actors and these opportunities give them the chance to learn more.
Writing: Children write their own stories by taking ASb ones as models.
Asking questions: this is done in case they skipped pages or they misunderstood. We ask them questions or they ask each other.
Using pictures: Special attention is also paid to the pictures. When storybooks are projected, the text is covered with a piece of paper and we discuss the story that the pictures tell. Afterwards, we read the storybooks and discuss.
Prediction: Children are given a chance to write their own stories of how the stories develop or end.
Discussion: Children are also asked to share what they like about the storybooks. For example, a third grader and a frequent participant of the RAL sessions, presented his argument about the bowls owned by hyena and hare in the story. He convinced the other children that big bowls give birth to small ones because it is from birth that everything comes.
Learning morals: Stories are used to teach and entertain as our forefathers did. For example, bad habits like lying and theft are discouraged using tales.
We use Amharic stories alongside their English originals to develop the readers' English. For example, the English version of the story Anna and the Three Hairs was read. The children read it and tried to discuss it in English.
Outreach
The library also reaches out to other schools in Debre Birhan and beyond. For example, At Sasit Elementary School, a remote school located 92 kilometres away from Debre Birhan, hundreds of learners read the following storybooks: Andiswa Soccer Star, Colours of a Rainbow, Petros and his Dog, Hyena, Hare and their Basins (in Amharic) and Counting (in English). I loaded storybooks on the school director's laptop.
| | |
| --- | --- |
| Children at Sasit Elementary School | Library on a bicycle |
Distributing the storybooks to schools and projecting them using the equipment Saide donated to us wouldn't have been possible without the steady effort of Tesfamicael Hailu. He is a first year IT major at Debre Birhan University and a volunteer at Ras Abebe Aregay Library. He reached every one of the schools in town, private and public alike, and gave the books to those which were willing to take. Tesfamichael Hailu cycled very long distances to distribute and project storybooks.
Hailu says:
I strived to reach every school in town. I gave the storybooks to 24 schools distributing to each school 463 storybooks which include those in the various languages and booklet versions. For directors who are not sure about the storybooks, I take their phone numbers and contact them afterwards. I convince them about the objective of the initiative. I return to the school when there is power. I take the storybooks to them on CDs. I distribute using teachers' or directors' own computers and flash drives. The assignment I had from Ras Abebe Aregay Library was to generate ideas for ASb book distribution and usage. I applied the following: I suggested that we should print some ASb books and give some to some schools that have no resources on loan basis. We did that and we succeeded. These schools promised to print ASb books in the future because they noticed theie importance. I gave students a reward if they retold the story. I checked if the students knew about ASb books by asking them when they come out of the school compounds. I have taken videos of these and the kids told me even detailed ideas about what the storybooks are about. I transferred all the ASb books onto my smartphone and shared with other people as well. Since I am an IT major, I am trying to map the schools I visit in a map on the Internet.