African Storybook expanding reading for pleasure in a Kenyan school
Tessa Welch
This is a story of how Ndege, a mixed primary school with an enrolment of 784 pupils, located in Njoro, a sub-county of Nakuru County in Kenya, is encouraging pupils across grades to read for pleasure using books from the African Storybook website.
Among the 339 boys and 345 girls are special needs children. All these learners are being assisted by 21 teachers, four males and 17 females. The school has a library which started humbly as a carton box library with 70 story books in 2010, but had expanded to over 4500 story books by 2017. Ndege is also one of the schools that have been given government issue tablets.
The teacher librarian, Geraldine Nanjala, was introduced to the African Storybook in September 2017, and she was delighted at the hundreds of books there that could help her further expand her library. She immediately downloaded three storybooks onto the government tablets and later added 12 more for learners to read. In January 2018, a further 103 storybooks were added to the collection with the support of the African Storybook Partner Development Coordinator who visited the school. The school now has 48 English and 70 Kiswahili African Storybook books (118 in total).
Teacher Nanjala says, "This is a plus to us because it is helping us reach our target of additional books each year. Books in the tablets cannot get dust or get torn." Also, children are attracted to a library with digital not only print resources:
"The number of learners coming to read in the library has increased by about 300."
One teacher working on her own could be overwhelmed by the reading needs of learners in a school as big as Ndege Primary. "To manage this increase," she says, "each class has a library lesson plotted on the timetable. Grades 1-3 come in the afternoons."
The stories on the tablets can be used across all grades, 1-8, because their learners are average learners most of whom take time to learn to read. Most of the storybooks are short and so they help those learners who need more time to learn to read. The fast readers take two or three days to finish reading the stories in the tablet.
Teacher Nanjala shared some examples of how the ASb storybooks are stimulating reading for enjoyment among learners. She says, "Esther Atir, a grade 2 girl, makes sure she reads every day. She is now through with the Kiswahili stories. Her favourite stories are those written by Ursula Nafula. She says, "Ukisoma, unacheka." ("When you read, you laugh"). E.g. Biantika na chungu kilichokufa (Byantaka and the dead pot). Kimutai liked Mkoba Uliozungumza (Talking bag) by Mutugi Kamundi."
| | |
| --- | --- |
| | |
The African Storybook caters for the needs of diverse learners across grades. For example, Teacher Nanjala says, "The lower Primary learners enjoyed reading Kiswahili probably because they are familiar with it. The illustrations are very attractive to them. When asked to write what they had read, they came up with other pictures. The special needs learners enjoy looking at the pictures." The upper Primary learners also like reading Kiswahili and among their favourite writers are Brigid Simiyu, Caren Echesa and Stella Kihweo. It is interesting to note that some learners were able to discover the English translations of the Kiswahili storybooks. Some readers begin by reading the story books in English. Boys' favourite stories are factual stories e.g. Ms Phone; Sun, Moon and Water; Sun, Moon, Rain and Wind while Girls' favourites are The Greedy woman and Beloved daughter.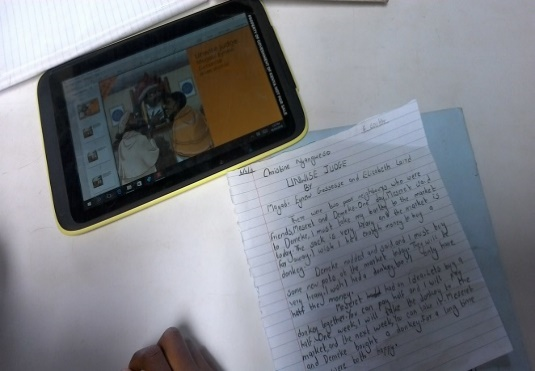 It is vital for teachers to find the most effective pedagogical approach to teaching reading and helping their learners to engage with storybooks. This is why it is noteworthy that "The grade seven class teacher has made sure that during English reading, learners read and summarise the stories. Mr Kiarie encourages them to write short stories after reading for example, Unwise Judge and Greedy Woman.
Four of Teacher Kiarie's learners have paired to write their own short stories. As learners enjoy reading the storybooks, they also learn to write, and hopefully, write quality stories.
A teacher can only passionately communicate a passion for reading if she herself is passionate about reading. That is why it also remarkable to note that at Ndege School, "Language teachers have now come to the library to read short stories in order to narrate to the learners as an introductory part of their lesson."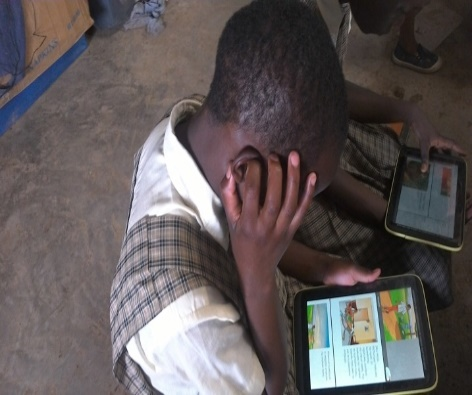 Ndege Primary has shared stories with other schools e.g Kiriaini and Davishion Primary. They are now proud of having digital library storybooks. More schools will get them next term.
Parents too have downloaded the stories to have their children read. Among them Joseph Kariuki (teacher), Luke Toroitich (University don), Jimna Kiarie (teacher), and Joyce Kimani (teacher). Other stories need to be developed.
This shows what an enthusiastic librarian can do when a resource is made available to her. African Storybook is proud to be working with Teacher Nanjala.