A Hot Saturday
Wiehan de Jager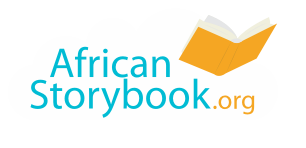 It was a very very hot Saturday. Everyone was grumpy.
"Let's go to the river," Lerato said. "But Mme told us not to swim in the river," said Bontle. "We won't swim," answered Lerato. "We'll just play in the shade next to the water."
First we took off our shoes. But we were still hot. Then we took off our shirts and skirts. But we were still hot.
We put our feet in the river to cool off. Then we splashed each other.
We swam and swam and forgot about the time.
The sun started to go down, and we felt chilly. Where were our clothes?
We looked everywhere: under the trees, on the bushes.
There were some cows near the river. Bontle looked up, "Look at that cow! She's eating your shirt!"
"The cows ate our clothes!" But did Mme believe us? Soon our bottoms were very warm. And it wasn't from the sun.
You are free to download, copy, translate or adapt this story and use the illustrations as long as you attribute in the following way:
A Hot Saturday
© African Storybook Initiative, 2014
Creative Commons: Attribution 4.0
Source
www.africanstorybook.org