Ani omubbedde?
Karen Lilje and Wiehan de Jager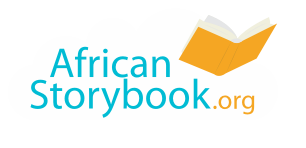 Eige lyalingirira ebilime obuniavu ni ebimunku ebiriraine."ndi munene" lityo bwelyakoba.
"Mbe, Eige.toli mubbedhe,"Wakadada bwe yakoba. Ndi mubbedhe!"
"Mbe,Wakadada,toli mubbedhe," Wamuyayu bwe yakoba.Ndi mubbedhe!"
"Mbe, Wamuyayu.Toli mubbedhe," wakayima bwe yakoba," ndi mubbedhe!"
"Mbe, Wakiyima.Toli mubbede," atyo nkula bwe yakoba, ndi mubbedhe!"
"Mbe Wankula. Toli mubbede,"atyo wandhovu bweyakoba,ndi mubbede!"
Awo Wandhovu yalinga ku igulu. Eigulu lyali lidwire munhenhie, inene ate igazi,igaziye ebyandha nebyandha mu bule nsonda." Mbe,tiri mubbede,Oba! tuyinza okuba badiri!"
You are free to download, copy, translate or adapt this story and use the illustrations as long as you attribute in the following way:
Ani omubbedde?
© Sara Saunders (Text) 2015
Creative Commons: Attribution 4.0
Source
www.africanstorybook.org