Mr Fly and Mr Big Head
Joshua Waswa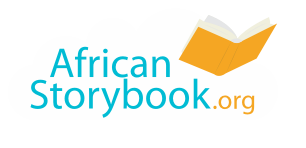 Mr Big Head and Mr Fly were friends.

One day, they went for a walk together.
They came to the edge of a river, and argued with each other.

Mr Fly said, "You can't jump over this river!"

"Yes, I can! It's you who can't!" replied Mr Big Head.
"You jump!" said Mr Fly.

"No, you jump first," said Mr Big Head.

So Mr Fly flew across the river.
Then Mr Big Head jumped into the river.

But his head was so big that he started to sink.
Mr Fly laughed, "Hee hee!"

But he laughed so much that his mouth tore in two from one side to the other!
You are free to download, copy, translate or adapt this story and use the illustrations as long as you attribute in the following way:
Mr Fly and Mr Big Head
© African Storybook Initiative 2014
Creative Commons: Attribution 4.0
Source
www.africanstorybook.org