Why Donkey cries louder than Horse
Salim Kasamba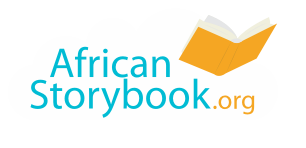 "Come, let's read a storybook, my child," said mother.
Once upon the time, Horse and Donkey lived together. They did everything together.
One sad day, Horse's son died.

He felt so sad that he cried and cried. His neighbours comforted him.
But he continued to cry. His brother and friend Donkey tried to stop him.

"A man does not cry aloud. He sheds tears quietly," advised Donkey.
During the funeral, Horse cried when he thought of his dead son.

Donkey looked at him and said, "A man does not cry aloud."
Donkey would stop Horse when he cried, "Hii, hii, hii."
He would remind Horse to instead cry, "Hmm, hmm, hmm."
This continued for some time, until Horse's son was buried.
Two months later, Donkey's only son also died.

The neighbours gathered to arrange for the burial. Donkey's brother and friend, Horse, was also there to comfort him.
When Donkey cried loudly, Horse told him to be patient. He reminded him that a man does not cry aloud, and that he should cry, "Hmm, hmm, hmm."
But Donkey still cried out loud because he loved his only son so much.
Then he cried even louder, "Hii hoo! Hii hoo! Hii hoo!" This means, "It's too much! Too much! Too much!"
"And that is why Donkey cries louder than Horse," explained mother as they finished the story.
You are free to download, copy, translate or adapt this story and use the illustrations as long as you attribute in the following way:
Why Donkey cries louder than Horse
© African Storybook Initiative 2017
Creative Commons: Attribution 4.0
Source
www.africanstorybook.org