Is Dedo really mad? (Colour-in)
Jesse Breytenbach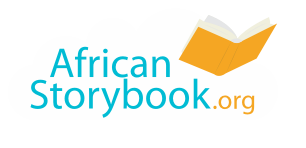 Dedo was a young woman in Ogorme village. She was different to other women.

She dressed in torn, dirty clothes. She wore the left slipper on the right foot and the right slipper on the left foot.
Dedo did not talk to anyone in the village. She also did not work with anybody. She would talk to herself, jump and clap her hands.
Sometimes Dedo picked up food from the ground and ate it.

She had never fallen sick, despite eating from the ground. Nobody in the village had given her medicine, nor taken her to the hospital to be cured of any sickness.
Some people of Ogorme village saw Dedo as mad. Others said she was a witch.

They insulted her. They asked her not to fetch water from where Ogorme people fetched their drinking water.
Then came the farming season. Dedo had a hoe, a cutlass and a dirty bucket.

She used the hoe and cutlass to weed the land. She used the bucket to fetch water for use on the farm.
Dedo planted maize and groundnuts. She worked on her farm every day.

The people of Ogorme stood by, watched and laughed at her. She did not mind them and took care of her crops.
Any time she worked on the farm, she would sing, "Laziness kills! Don't be lazy. You will go hungry."

As Dedo sang, she clapped, jumped and danced.
Three months later, Dedo's crops bore many fruits.

It was time for harvesting. The husks of the maize looked green and fresh. The silk was brown in colour.
The people of Ogorme now went to Dedo to beg for maize and groundnuts.

Even though she freely gave them food, some wicked people went to steal when she was not at the farm.
One day, a stranger visited Ogorme village. He saw Dedo on her farm. He was very happy to see the work she had done.

The stranger greeted her, "Ayekoo!" But Dedo did not answer.
The stranger did not understand Dedo. He went to the village to find out more about her.

Some of the people of Ogorme village told him that Dedo was mad.
Looking at Dedo's hard work and the farm, the stranger asked himself, "Is Dedo really mad?"

He said out loud, "Well then, I have never seen a mad woman like her in all my life!"
You are free to download, copy, translate or adapt this story and use the illustrations as long as you attribute in the following way:
Is Dedo really mad? (Colour-in)
© African Storybook Initiative 2017
Creative Commons: Attribution 4.0
Source
www.africanstorybook.org