Do not challenge God
Isaac Okwir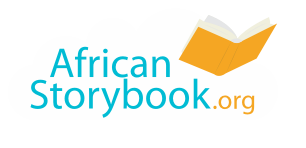 Aweh and his wife, Kaweh, lived in a village called Ayeatia.

Although Aweh had a loose tongue he was a very hard working farmer.

He went to the farm every day. His dog named 'Noproblem' usually followed him to the farm.
One day at the farm, Aweh walked around the part he had not yet finished weeding.

With only one hoe in his hand, Aweh laughed aloud, "Ha, ha, ha, aa! Rain or shine I will finish weeding today."
While he was weeding, Kaweh arrived with his food. She was happy with her husband's work.
Kaweh decided to support Aweh by singing a song.
The song encouraged Aweh to weed more.

He was now weeding very fast, throwing the soil to his left and to his right. He did not rest.
Aweh became very tired. He needed to rest.

He sat on his hoe's handle to rest. He said to Kaweh, "With you here, there is nothing that can stop me from finishing the weeding."

He challenged, "God can even come down, nothing will stop me from finishing."
Just then, Noproblem came running chasing a rabbit.

Aweh stood up and threw his hoe at the rabbit. The handle hit the ground and broke into pieces.
The rabbit was gone. The dog returned panting and gasping for breath.

Aweh and Kaweh stood without talking. The dog wagged its tail while going round them.

Who is to blame?
You are free to download, copy, translate or adapt this story and use the illustrations as long as you attribute in the following way:
Do not challenge God
© African Storybook Initiative 2017
Creative Commons: Attribution 4.0
Source
www.africanstorybook.org