Berhe and the snake
Adonay Gebru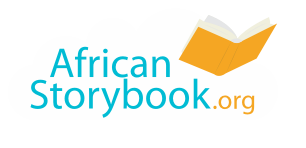 One day in winter, Berhe was travelling to visit his relatives. At a river, he came across a large snake.
"Where are you going?" the snake asked Berhe.
"I am crossing the river," replied Berhe.

The snake asked, "Please let me cross the river with you because I can't do it on my own."
Berhe was kind and answered, "Come, I will help you to cross the river."

The snake climbed onto Berhe's head and they crossed the river.
Berhe told the snake to get down. The snake refused, "I will not, I'm comfortable here."

Berhe was worried. If he hit the snake with his stick, he would hurt his head. If he grabbed the snake, it would bite him.
Berhe decided to get advice. He wanted hyena's opinion about the problem.

"Good afternoon, hyena," said Berhe. "Good afternoon, how can I help you?" asked hyena.
Berhe continued, "I know you are very fair, so I want you to judge us."

Berhe explained what had happened with the snake, and asked hyena's opinion on the matter.
Hyena said, "You have crossed the river, therefore the snake must get down."

But the snake refused to get down.
So they went to fox for his opinion. Berhe said, "Fox, you usually have good judgment, and we want you to advise us."
"I helped the snake to cross the river. After we crossed, he refused to leave my head," complained Berhe.
Fox said, "If I have to judge, you both should be on the ground. If you don't agree with what I decide then you can go back to where you were."

The snake came down from Berhe's head.
"Fox, please tell us your judgment?" asked Berhe.

Fox replied, "The snake is on the ground. Your stick is in your hand. What do you want me to judge?"
After thinking a while, Berhe understood what the fox meant.

Berhe beat the snake with his walking stick.
You are free to download, copy, translate or adapt this story and use the illustrations as long as you attribute in the following way:
Berhe and the snake
© African Storybook Initiative 2017
Creative Commons: Attribution 4.0
Source
www.africanstorybook.org