NgoMgqibelo otjhisako ngemva kwamadina
Wiehan de Jager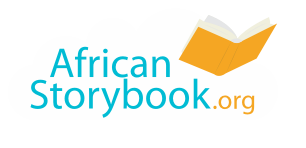 KwakuMgqibelo otjhisa khulu ngemuva kwamadina ngoNobayeni.
"Bontle, Mpho nawe Lerato, khambani niyokudlala!" umma utjho kithi. "Anginifuni ngaphasi kweenyawo zami."

Sagijimela ngaphandle kwendlu.
"Asiyeni emlanjeni," kutjho uLerato. "Kupholile khona." "Kodwana umma wasitjela bona singadudi ngemlanjeni," kwatjho uBontle.

"Angekhe sidude," kuphendula uLerato. "Sizokudlala emthunzini eduze namanzi."
Kodwana ukudlala kumsebenzi otjhisako, nalokha ungaphasi kwemithi eduze namanzi.

Kokuthoma sikhuphe amanyathelo wethu. Kodwana sisezwa ukutjhisa. Sahlubula amarhembe neenkerde zethu. Kodwana sisezwa ukutjhisa.
Sifaka iinyawo zethu ngemlanjeni ukuze ziphole. Ngemva kwalokho sathelana ngamanzi.

Msinyazana nje besele simanzi.
"Izani! Asidudeni," kwatjho uMpho. "Umma angeze azi."

Saduda besaduda salibala ngesikhathi.
Ilanga lathoma ukutjhinga, phasi kwathoma ukuphola.

Bezikuphi izambatho zethu?
Sazuma ngaphasi kwemithi.

Sazuma emithini emincani.

Sazuma kiyo yoke indawo.
Bekuneenkomo eduze komlambo, ebezidla utjani obuhlaza tlabha. UBontle waqala ngaphezulu, "Qalani ikomo leya! Kunani ngemlonyeni wayo?"

"Idla ithuthumbo elibovu," kwatjho uLerato. "Akusilo ithuthumbo elibovu," kwarhuwelela uMpho. "Yirhembhe yakho!"
Saqala enye ikomo ebeyihlafunya into ehlaza okwesibhakabhaka.

"Lesa sikerde sami!" kwarhuwelela uBontle.
Sabuyela ekhaya ngezambatho zethu zangaphasi, sihlengezela. Ingasi ngombana bekumakhaza.

"Bekuziinkomo," salila. "Iinkomo zidle izambatho zethu."
Ingabe umma wasikholwa?

Ngokurhabako imizimba yethu besele itjhisa bhe! Nokho bekungasiwo umtjhiso welanga.
You are free to download, copy, translate or adapt this story and use the illustrations as long as you attribute in the following way:
NgoMgqibelo otjhisako ngemva kwamadina
© African Storybook Initiative, 2014
Creative Commons: Attribution 4.0
Source
www.africanstorybook.org
Original source
http://www.youtube.com/watch?v=s_punnjq2ue.