Simbi's new mother
Benjamin Mitchley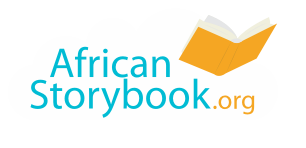 Simbi's mother died.

Simbi and her father helped each other.
One day, Simbi's father came home with a woman.

Her name was Anita.
Father said to Simbi, "Anita is your mother now."
Simbi was unhappy.

She lay on her mother's colourful blanket.
Simbi's father went away to work.

Anita and Simbi were unhappy.
Sometimes Anita hit Simbi.

Also, she did not give Simbi food.
Anita pulled Simbi out of bed.

Her mother's blanket tore.
Simbi took the blanket and some food.

She ran away.
Simbi stayed up in a tree.

She sang a sad song to her mother.
One woman listened carefully to the song.
The woman knew that Simbi was her brother's daughter.
Simbi went with her aunt.

She ate and slept well.
Simbi's father went home.

Simbi was missing.
Father found Simbi.

He said, "Stay with your aunt whenever you want to."
Anita and Simbi began to love each other.
Anita cooked for them.

Simbi knew she had found a new mother.
You are free to download, copy, translate or adapt this story and use the illustrations as long as you attribute in the following way:
Simbi's new mother
© African Storybook Initiative 2014
Creative Commons: Attribution 4.0
Source
www.africanstorybook.org