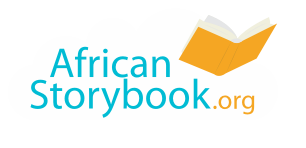 Ulikuwa wakati wa wanyama kwenda kulala.

Mmoja wao hakutii.
Mkulima alimwambia Piggy aende kulala.

Piggy alikataa.
Mkulima alimwuliza Trasti Wip kumcharaza Piggy.

Trasti Wip alikataa.
Moto Mkali alikataa kumteketeza Trasti Wip kwa kutotii.
Maji Safi hakumtii mkulima.

Alikataa kumzima Moto Mkali.
Mkulima alimwuliza Ng'ombe Moo kunywa Maji Safi.
Ng'ombe Moo alisema, "Nitayanywa maji haya. Nina kiu."
Maji Safi alilia, "Usininywe. Nitamzima Moto Mkali."
Moto Mkali alipiga kelele, "La, hutanizima. Nitamteketeza Trasti Wip."
Trasti Wip alilia, "Tafadhali usiniteketeze. Nitamcharaza Piggy."
Piggy alisema kwa hasira, "Usinicharaze. Nitaingia chumbani."
Piggy aliingia chumbani tayari kulala.
You are free to download, copy, translate or adapt this story and use the illustrations as long as you attribute in the following way:
Kutotii!
© African Storybook Initiative 2016
Creative Commons: Attribution 4.0
Source
www.africanstorybook.org