Wohe, ngebhodwe lami!
Brian Wambi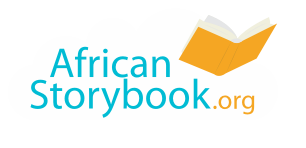 UNontando unabafowabo abayisithupha.
Abazali bakhe sebemuphe ibhojwana.

Ulikhonzile leli bhodwe.
Nakhu ngelinye ilanga abafowabo sebeliphula leli bhodwe.
Wakhathazeka. Akaliboni ibhodwe, uyacinga akalitholi. Wakhala, wakhala.
Nanguya ephuma ekhaya. Nanguya ecaca isihlahla eside.
Baphuma abazali bakhe beyomfuna, bamthola.

"Sicela wehle lapho," kusho abazali bakhe.
Nabafowabo bayamncenga, bayamculela, "Sicela wehle lapho."
Kodwa uNontando wahlekisa ngeculo labafowabo, akangabanaka.
Emva kwabafowabo, kwafika umngane kaNontando.

Naye wacula lona lelo culo, "Ngicela wehle lapho."
Umngane wakhe wacula waze wehla uNontando esihlahleni.
Abangani bahamba bephindela ekhaya.
Wonke umuntu ekhaya wajabula ukuthi uNontando ubuyile.

UNontando wathola ibhodwe elisha!
You are free to download, copy, translate or adapt this story and use the illustrations as long as you attribute in the following way:
Wohe, ngebhodwe lami!
© African Storybook Initiative 2016
Creative Commons: Attribution 4.0
Source
www.africanstorybook.org