'n Warm Saterdag
Wiehan de Jager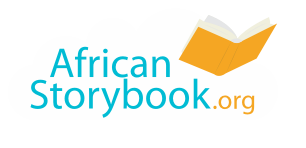 Dit was 'n baie warm Saterdag in Desember.
"Bontle, Mpho en Lerato, gaan speel buite!" het Ma gesê. "Julle is in my pad."

Ons het uit die huis gehardloop.
"Kom ons gaan na die rivier toe," het Lerato gesê. "Dis koeler daar."

"Maar Ma het gesê ons mag nie swem nie," het Bontle gekeer.

"Ons sal nie swem nie," sê Lerato. "Ons sal net in die water speel."
Maar speel maak 'n mens warm, al is jy onder die bome langs die rivier. Eers het ons ons skoene uitgetrek.

Maar ons het steeds warm gekry.

Toe trek ons ons hemde en rompe uit.

Maar ons het steeds warm gekry.
Ons het ons voete in die water gesit om af te koel. Toe spat ons mekaar nat.

Gou was ons sommer sopnat.
"Ag, komaan! Kom ons swem," het Mpho gesê. "Ma sal nie weet nie."

Ons het geswem en geswem en van die tyd vergeet.
Die son het naderhand al gesak. Dit het koeler geword.

Waar was ons klere?

Ons het onder die bome gesoek. Ons het in die bosse gesoek. Ons het oral gesoek.
Naby die rivier het 'n paar koeie op die soet gras gewei.

Bontle het opgekyk. "Kyk na daardie koei! Wat is daar in haar mond?"

"Sy eet 'n blom," het Lerato geantwoord.
"Dit is nie 'n rooi blom nie," het Mpho geroep. "Dis jou hemp!"

Toe sien ons 'n ander koei wat aan 'n blou ding kou.

"Dis my romp!" het Bontle geroep.
Ons het uiteindelik bewend in ons onderklere huis toe gegaan. Maar ons het nie net gebewe omdat dit koud was nie.

"Dit was die koeie," het ons gehuil. "Die koeie het ons klere geëet."
Maar het Ma ons geglo?

Gou was ons boude baie warm. En dit was nie van die son nie.
You are free to download, copy, translate or adapt this story and use the illustrations as long as you attribute in the following way:
'n Warm Saterdag
© African Storybook Initiative, 2014
Creative Commons: Attribution 4.0
Source
www.africanstorybook.org
Original source
http://www.youtube.com/watch?v=s_punnjq2ue.