Moqebelo o mong o tjhesang haholo
Wiehan de Jager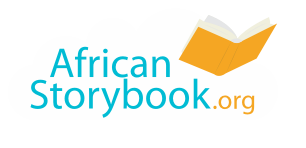 E ne e le Moqebelo o tjhesang haholo mantsiboya ka kgwedi ya Tshitwe.
"Bontle le Mpho le Lerato, tswang le ilo bapala!" ha rialo Mme ho rona. "Ha ke le batle ha le ntshwenya."

Ra matha ho tswa ka tlung.
"Ha re yeng nokeng," Lerato a rialo. "Ho phodile moo."

"Empa Mme o itse re se ke ra lo sesa nokeng," ha rialo Bontle.

"Ha re no sesa," ha araba Lerato. "Re tla bapalla moriting o pela metsi."
Empa ho bapala ho etsa hore o tjhese haholo, leha o le ka tlasa difate tse pela noka. Ra qala ka ho rola dieta tsa rona. Empa ra nna ikutlwa re tjhesa. Yaba re hlobola dihempe tsa rona le mese.

Empa ra nna ra ikutlwa re tjhesa.
Re ile ra kenya maoto a rona ka nokeng ho a phodisa. Yaba re tshelana ka metsi. Hang ra be re se re kene ka metsing.
"Tlohong! Ha re lo sesang," ha rialo Mpho. "Mme a ke ke a tseba."

Re ile ra sesa ra sesa ra ba ra lebala ka nako.
Letsatsi le ne le se le qadile ho dikela, ebile ho qala ho phola. Diaparo tsa rona di kae?
Ra di batla tlasa difate.

Ra di batla dihlahleng.

Ra di batla hohle.
Ho ne ho e na le dikgomo haufi le noka, tse neng di fula jwang bo monate. Bontle a tadima, "Bona kgomo yane! Keng e ka hanong la yona?"

"E ja palesa e kgubedu," ha rialo Lerato.

"Ha se palesa e kgubedu," ha hweletsa Mpho. "Ke hempe ya hao!"
Re ile ra sheba kgomo e nngwe e neng e hlafuna ntho e nngwe e mmala wa botala ba lehodimo.

"Ke mose wa ka!" ha hweletsa Bontle.
Re ile ra ya hae ka dipenti, re thothomela. Empa e ne e se feela hobane ho ne ho phodile.

"E ne e le dikgomo," ra lla. "Dikgomo di jele diaparo tsa rona."
Empa na Mme o ile a re kgolwa?

Hang yaba maraho a rona ke ha a futhumetse haholo. E ne e se ka baka la letsatsi.
You are free to download, copy, translate or adapt this story and use the illustrations as long as you attribute in the following way:
Moqebelo o mong o tjhesang haholo
© African Storybook Initiative, 2014
Creative Commons: Attribution 4.0
Source
www.africanstorybook.org
Original source
http://www.youtube.com/watch?v=s_punnjq2ue.