Monkey and the Drought
Salim Kasamba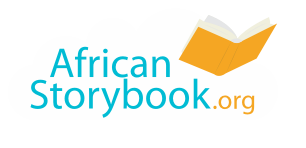 The rains did not come. The land was very dry.
This monkey left home to look for water and food.
She walked over hills and valleys.
She came to a place named Tirkol.
Monkey was very happy in this place.
She ate fruit and got fat. But she missed her friends.
So Monkey made the long journey home.
The other monkeys were joyful to see her.
"Where is this wonderful place with fruit?" they asked her.
"I will take you there," said Monkey.
The other monkeys loved Tirkol. They decided to stay there forever.
But the monkeys from Tirkol were worried.
"These new monkeys will eat all our fruit," they said.
The Tirkol monkeys went to attack the new monkeys.
"Why fight?" asked an elder. "There is enough fruit for all!"
This was true. So the monkeys decided to live together peacefully.
You are free to download, copy, translate or adapt this story and use the illustrations as long as you attribute in the following way:
Monkey and the Drought
© African Storybook Initiative 2016
Creative Commons: Attribution 4.0
Source
www.africanstorybook.org