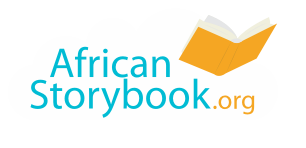 Frog and Snake are friends.
Frog says, "Come with me to visit my mother."
"Thank you," Snake says. "Who will watch our homes?"
"I will watch your homes," says Monkey.
Frog puts white ants in a bag for her mother.
Frog and Snake leave at dawn. They go into a forest.
They meet a gang of squirrels. Snake is afraid.
Frog protects her friend.
They are hungry when they get to Mother's house.
They wash and get ready to eat.
"Snake, please sit up," says Frog.
Snake tries to sit up, but she is not a frog.
"I cannot sit up like a frog," says Snake.
"You do not understand me. I am going home."
Snake is annoyed. "I thought Frog was my friend."
You are free to download, copy, translate or adapt this story and use the illustrations as long as you attribute in the following way:
Frog and Snake
© African Storybook Initiative 2016
Creative Commons: Attribution 4.0
Source
www.africanstorybook.org