Ostrich and Lioness
Brian Wambi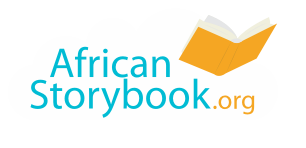 Ostrich and Lioness were great friends.

Both of them had young ones.
Ostrich fed her chicks well.
The cubs had little food to eat.
Lioness looked at the chicks and thought, "They are beautiful! I wish they were mine."
When Ostrich was away, Lioness took the chicks to her home.
Ostrich returned and found the cubs in her home.

She cried, "Where are my children?"
Ostrich ran to Lioness' hut and saw her chicks with Lioness.
Lioness refused to let Ostrich take her chicks.

She said, "They are mine now. You can have the cubs."
Ostrich was angry and upset.

"What can I do to get back my children?" she wondered to herself.
Then she thought, "I know what to do. I will call all the animals for a meeting."
The animals gathered together.
Elephant asked Ostrich and Lioness to speak.
Most of the animals were afraid to blame Lioness.
Finally, Squirrel stood up and said, "Children that look like birds, belong to Ostrich. Those with tails, belong to Lioness."
Then Squirrel disappeared into a hole.

All the animals cheered.
Lioness was very annoyed.

She went home with her cubs.
You are free to download, copy, translate or adapt this story and use the illustrations as long as you attribute in the following way:
Ostrich and Lioness
© African Storybook Initiative 2016
Creative Commons: Attribution 4.0
Source
www.africanstorybook.org