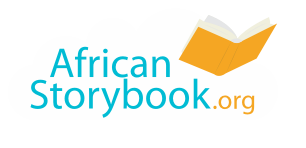 There was a huge baboon with a large group of baboons that followed him.

This baboon was a tyrant!
But there were several huge baboons in the troop.

The followers of the tyrant sometimes got confused about who to obey.
One day, the other baboons said to the tyrant, "We need to be sure that you are the one giving us orders.
"All right," said the tyrant. "I'll wear a piece of cloth around my head. You must make sure that you follow my instructions exactly."

They all agreed.
A big baboon tied a head band round the tyrant's head.

He said, "From today, whatever I tell you to do you must do. I don't want any disobedience."
When the tyrant jumped the others jumped, when he sat down the others sat down.

When he screamed, the others would scream.
As time went by the head band became tighter and tighter.
One day the tyrant sat down and said, "This head band is hurting me."

And he put his head in his hands.
All the baboons sat down, and they put their heads in their hands.

They said, "This head band is hurting me."
The tyrant yelled, "No, I'm serious!" And the followers said, "No, I'm serious."

The tyrant cried, "This thing's killing me!" And they all said, "This thing's killing me."
The tyrant clutched his head and fell down. They all imitated him and fell down.

Then he began struggling, and they began struggling. He fell over over the cliff!
Although the rest of the baboon troop survived, the tyrant died from his injuries.
You are free to download, copy, translate or adapt this story and use the illustrations as long as you attribute in the following way:
Baboon tyrant
© African Storybook Initiative 2016
Creative Commons: Attribution 4.0
Source
www.africanstorybook.org
Original source
www.ethiopianfolktales.com