Uma Tarde De Sábado E Calor
Wiehan de Jager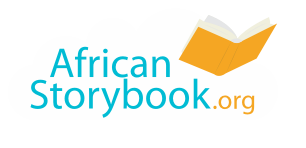 Era uma tarde de sábado com calor em dezembro.
"Bontle, Mpho, Lerato, vão brincar lá fora!" disse-nos a Mme. "Não vos quero aqui a atrapalhar." E lá fomos nós a correr.
"Vamos ao rio", disse Lerato. "É capaz de estar lá mais fresco." "Mas a Mme disse-nos para não irmos nadar para o rio", respondeu Bontle. "Não é preciso irmos nadar no rio", explicou Lerato, "Podemos brincar à sombra ao pé da água."
Mas brincar também faz calor, mesmo à sombra das árvores nas margens do rio. Primeiro tirámos os sapatos. Que calor! Depois despimos as camisas e as saias. E mesmo assim tínhamos calor.
Molhámos os pés no rio para refrescar. Depois atirámos água uns aos outros. Depressa ficámos todos encharcados.
"Vamos embora! Vamos nadar no rio!" disse Mpho. "A Mme não precisa de saber." Nadamos, nadamos. Até nos esquecermos das horas.
O sol começou a pôr-se e começou a ficar mais fresco. Onde estavam as nossas roupas?
Procurámos junto às árvores. Procurámos no meio dos arbustos. Procurámos em todo o lado.
Entretanto, estavam umas vacas junto ao rio a pastar uma bela ervinha. Bontle olhou para cima e disse "Olha para aquela vaca! O que é que ela tem na boca?" "Está a comer uma flor vermelha", disse Lerato. "Não é uma flor vermelha nada", gritou Mpho. "É a tua camisa!"
Olhámos para outra vaca que estava a mastigar qualquer coisa de cor azul. "A minha saia!" gritou Bontle.
Fomos para casa de roupa interior, a tremer. E não tremíamos só por causa do frio. "As vacas. As vacas comeram a nossa roupa", concluímos em lágrimas.
Será que Mme ia acreditar em nós Íamos ficar com o rabinho quente. E não ia ser ser por causa do calor.
You are free to download, copy, translate or adapt this story and use the illustrations as long as you attribute in the following way:
Uma Tarde De Sábado E Calor
© African Storybook Initiative, 2014
Creative Commons: Attribution 4.0
Source
www.africanstorybook.org
Original source
http://www.youtube.com/watch?v=s_punnjq2ue.