Musau and his father
Benjamin Mitchley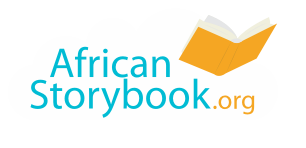 Musau lived with his father, Syonzola.
Syonzola went to drink alcohol every day.
Syonzola came home drunk.

He called, "Help! A hyena is killing me."
The people came running.

But, there was no hyena.
Syonzola did this every night.
Every time Syonzola shouted, Musau woke up.
One night, a hyena waited for Syonzola.
Syonzola cried, "Help!"

People said, "We are tired. He is tricking us."
Musau waited. His father did not arrive.
"My father is really in danger," Musau said.
"Father! Father!" Musau called.

The hyena was pulling his father's leg.
From that day, Syonzola changed.

He began telling stories to children.
You are free to download, copy, translate or adapt this story and use the illustrations as long as you attribute in the following way:
Musau and his father
© African Storybook Initiative, 2014 2014
Creative Commons: Attribution 4.0
Source
www.africanstorybook.org