Ngumunye Umgqibelo Ntambamba
Wiehan de Jager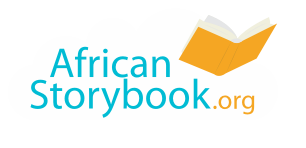 Kwakushisa kakhulu ngomgqibelo emini yantambamba Kuzibandela. Wonke umuntu wayeshesha ukucasuka. "Bontle, Mpho no Lerato hambani niyodla"! Mme wathi kuthina. "Anginifuni ngaphansi kwezinyawo zami."
Saphuma sigijima endlini. "Asiye emfuleni" Kusho uLerato. "kupholile laphayana." "Kodwa uMme wathi singayobhukuda emfuleni" kusho Bontle. "Ngeke sibhukude," kuphendula uLerato. "Siyodlala emthunzini eceleni kwamanzi."
Kodwa ukudlala ulibeke umsebenzi oshisayo noma ungaphasi kwezihlahla eceleni komfula. Siqale sakhumula izicathulo. Kodwa sisashiselwa. Sabuye sakhumula amahembe neziketi. Kodwa sisashiselwa.
Safaka izinyawa emfuleni ukuze siphole. Sabuye sathelana ngemanzi. Sase siba manzi.
"Wozani! Asibhukude" kusho uMpho. "Mme ngeke azi." Sabhukuda, sabhukuda saze sakhohlwa isikhathi.
Ilanga lase liyashona, saze sizizwa sesigodola. Ziphi izingubo zethu?
Sazibheka phansi kwesihlahla. Sazibheka ehlathini. Sazibheka yonke indawo.
Bekunezinkomo eduze nomfula, zithokozela utshani obumnandi. UBonhle wabheka phezulu, "Bukani leya nkomo! Yini emlonyeni wayo?" "idla imbali ebomvu," kusho uLerato. "Akuyona imbali ebomvu," kumemeza uMpho. "I hembe lakho!"
Sabona enye inkomo eyayihlafuna into eluhlaza. "Isiketi sami!" kusho uBontle.
Sahamba saya ekhaya ngamaphenti ethu, siqhaqhazela. Kodwa ayi ngoba kwakupholile. "Bekuyizinkomo," sikhala. "Izinkomo zidle izingubo zethu." Kodwa ngabe uMme wasikholwa? Maduzu izinqa zethu besezifudumele. Kodwa bekungaveli elangeni.
You are free to download, copy, translate or adapt this story and use the illustrations as long as you attribute in the following way:
Ngumunye Umgqibelo Ntambamba
© African Storybook Initiative, 2014
Creative Commons: Attribution 4.0
Source
www.africanstorybook.org
Original source
http://www.youtube.com/watch?v=s_punnjq2ue.